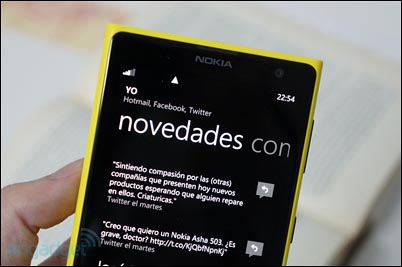 NOTICIA DE ENGADGET.COM
Recientemente algunos usuarios de Windows Phone han notado que su consumo de datos se ha disparado sin motivo aparente.
Los testimonios son lo suficientemente numerosos como para creer que sucede algo con sus terminales, y hoy podemos contarte que no es una estratagema de tu operadora para sisarte a final de mes.
Microsoft ha confirmado que la función de Twitter integrada en el propio sistema operativo está demandando muchos más datos de lo que debería ser normal, básicamente porque descarga las imágenes de los perfiles de forma frecuente aunque no sea necesario. Puede sonar a tontería, pero estaríamos hablando de cientos de megas al mes.
Microsoft ya ha cambiado la sincronización de su sistema operativo con Twitter para que las cuentas se sincronicen una única vez al día, pero Twitter deberá implementar sus propias modificaciones a fin de solucionar este problema de forma definitiva, lo que según Microsoft podría llevar algunas semanas.
Así las cosas, si eres de los que no terminan un mes sin acercarse al límite de su tarifa de datos, lo mejor que puedes hacer es desasociar tu perfil de Twitter del sistema operativo o asumir que es posible que termines superando el tráfico especificado en tu contrato.

|----------|

Recently some Windows Phone users have noticed that their data consumption has skyrocketed for no apparent reason .

Testimonials are numerous enough to believe that something with their terminals , and today we can tell you that it is a ploy by your carrier for sisarte ends meet .

Microsoft has confirmed that Twitter function integrated in the operating system is demanding much more data than it should be normal, basically because download the images of the profiles on a frequent but not necessary. It may sound silly, but we are talking about hundreds of megabytes per month .

Microsoft has changed the timing of its operating system Twitter accounts to synchronize only once a day, but Twitter should implement their own modifications in order to solve this problem permanently , which according to Microsoft could take a few weeks .

So, if you are someone that do not end a month without approaching the limit of their data rate , the best you can do is detach your Twitter profile operating system or assume that you may end up overtaking traffic specified in your contract.