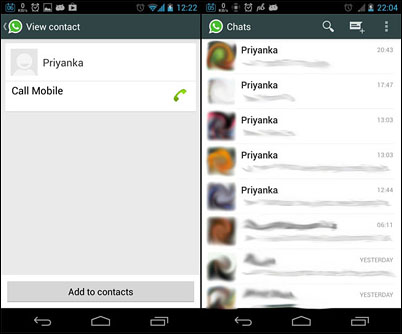 NOTICIA DE XATAKANDROID.COM
En las últimas horas varios medios se están haciendo eco de un supuesto virus conocido como "Priyanka" que parece se está propagando desde ayer a través de WhatsApp y que solo afecta a la popular aplicación de mensajería instantánea.
El virus "Priyanka" para WhatsApp se estaría propagando como archivo adjunto de un contacto que al descargar y añadir a nuestro dispositivo Android modificaría los nombres de nuestros chat de grupo.
Algunos medios dicen incluso que también cambiaría el nombre de la lista de contactos de WhatsApp aunque la fuente original solo habla de los grupos.
Este exploit se aprovecharía de un bug detectado en la aplicación de WhatsApp para Android, aunque de momento nadie ha explicado como funciona ese exploit ni nadie ha mostrado que información contiene ese contacto. Seguramente se trate de una inyección por SQL que modifique los nombres.
Para protegernos contra este virus molesto nos informan que no descarguemos ni añadamos ningún contacto llamado Priyanka que recibamos desde WhatsApp, aunque nadie nos garantiza que no se le pueda cambiar su nombre de contacto para distribuir ese molesto exploit bajo otro nombre.
Este virus solo afectaría a WhatsApp, no a nuestros contactos de nuestra agenda de Android, y su propagación es manual.
Si hemos sido afectado por ese exploit para volver a ver los nombres correctos de los chat tan solo tendríamos que borrar ese contacto de la agenda de nuestro dispositivo y en los ajustes de nuestro dispositivo ir Aplicaciones y en Información de la aplicación de WhatsApp forzar su cierre, borrar sus datos y la caché para dejar la aplicación como recién instalada, lo que podríamos borrar las últimas conversaciones a no ser que desde Ajustes del chat de WhatsApp forcemos a guardar las conversaciones antes de borrar sus datos.

|----------|

In recent times various media are echoing a supposed virus known as "Priyanka" appears is spreading from yesterday through WhatsApp and only affects the popular instant messaging application.

The virus "Priyanka" to WhatsApp would be spread as an attachment to a contact you to download and add to our Android device would change the names of our group chat.

Some media even say also change the name of the contact list even though the original source WhatsApp only speaks of the groups.

This exploit would take advantage of a bug encountered in the application of WhatsApp for Android, but so far no one has explained how it works that exploit no one has shown that contains the contact information. Surely it is an SQL injection to modify the names.

To protect against this virus upset us that do not unload or we add any contact named Priyanka we receive from WhatsApp, although no guarantees that you will not be able to change your contact name for that annoying exploit distributed under another name.

This virus only affect WhatsApp, not our agenda contact our Android, and its spread is manual.

If you have been affected by this exploit to return to see the correct names of the chat we should just delete that phonebook contact our device and our device settings go Applications and Information WhatsApp application force it to close , clear your data and cache to leave as newly installed application, which could erase the last conversations unless from WhatsApp chat settings to save conversations we force before deleting your data.