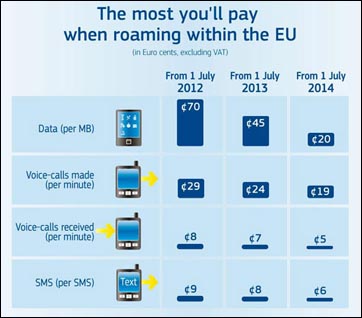 NOTICIA DE ENGADGET.COM
Desde hoy, a los ciudadanos de la unión les resultará mucho más económico moverse por los diferentes países que la componen en lo que toca a las telecomunicaciones, y es que la Comisión Europea ha confirmado los nuevos límites en estas anacrónicas tarifas, de forma que las llamadas se reducirán "al menos en un 17%", mientras que los SMS lo harán en un 11%.
Sin embargo, el dato que más nos llama la atención (y de hecho, el que más se ha recortado), se refiere a los costes de datos en la UE: el coste de los mismos se reduce en un 36%, hasta alcanzar los 45 céntimos de euro el mega, o lo que es lo mismo, un 91% más barato de lo que los sufridos ciudadanos de la Unión Europea venían pagando en 2007.
Así las cosas, la Comisión confirma haber logrado una reducción de los costes en este aspecto del 80% en los últimos seis años, pero aquí no termina la cosa: habrá más recortes el año que viene (tienes el detalle en un cuadro tras el salto), reduciéndose a la mitad el coste de los datos para julio del año que viene.
Las llamadas y los mensajes cortos también verán reducidas sus tarifas de forma considerable.

|----------|

Starting today, citizens of the union will be much cheaper switch various constituent countries in what concerns to telecommunications, is that the European Commission has confirmed the new limits in these anachronistic rates, so that the calls will be reduced "at least 17%", while SMS will do by 11%.

However, the data that catches our attention (and in fact, most have been cut), refers to data costs in the EU: the cost thereof is reduced by 36%, reaching 45 euro cents mega, or what is the same, 91% cheaper than the suffering citizens of the European Union had been paying in 2007.

So, the Commission confirms having achieved a cost reduction in the appearance of 80% in the last six years, but is not the whole thing: there will be more cuts next year (have the detail in a picture after the jump ), halving the cost data for July of next year.

Incoming calls and text messages will also see their rates reduced considerably.