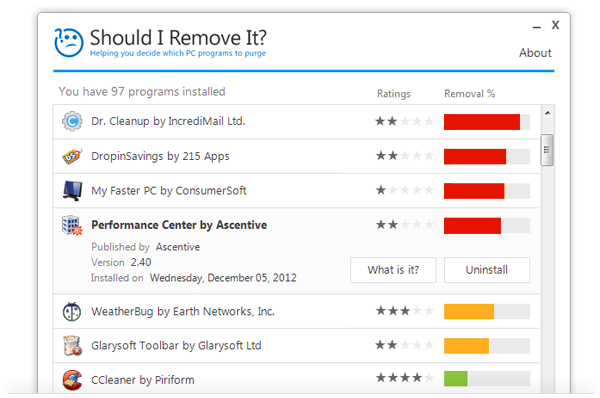 FREE DOWNLOAD
Should I Remove It?, o en español, ¿debería desinstalarlo? Esta pregunta es habitual cuando miras tu ordenador y ves que tienes demasiados programas y tu disco duro se queda sin espacio. Una opción es ver la lista de programas instalados desde Agregar o quitar programas, pero ¿no sería más práctico un programa que te dijera qué aplicaciones son prescindibles? La respuesta es Should I Remove It.
Should I Remove It analiza los programas de Windows instalados y te los muestra ordenados de menos a más importantes, con puntuación y porcentaje de desinstalabilidad, es decir, si el programa es útil o si puedes desinstalarlo porque no lo echarás de menos.
Entre otras cosas, Should I Remove It te servirá cuando compres un ordenador nuevo, ya que suelen venir con mucho bloatware preinstalado que ralentiza Windows en vez de ayudarte.
Además de la información que encontrarás en Should I Remove It, desde la página oficial del programa encontrarás más datos sobre la aplicación a desinstalar, además de ofrecer la opción de puntuarla.

|----------|

Should I Remove It?, Or Spanish, should I uninstall it? This question is common when you look at your computer and see that you have too many programs and your hard drive runs out of space. One option is to view the list of installed programs from Add or Remove Programs, but would not it be more practical a program to tell you what applications are expendable? The answer is Should I Remove it.

Should I Remove It analyzes Windows programs you installed and displays them in order from least to most important, and each desinstalabilidad percentage, ie, if the program is useful or if you can not uninstall it because you'll miss.

Among other things, Should I Remove It will serve you when you buy a new computer because they usually come with much bloatware that slows Windows preinstalled instead of helping.

In addition to the information you'll find Should I Remove It from the official website of the program can find more information on the application to uninstall, and offers the option to rate it.