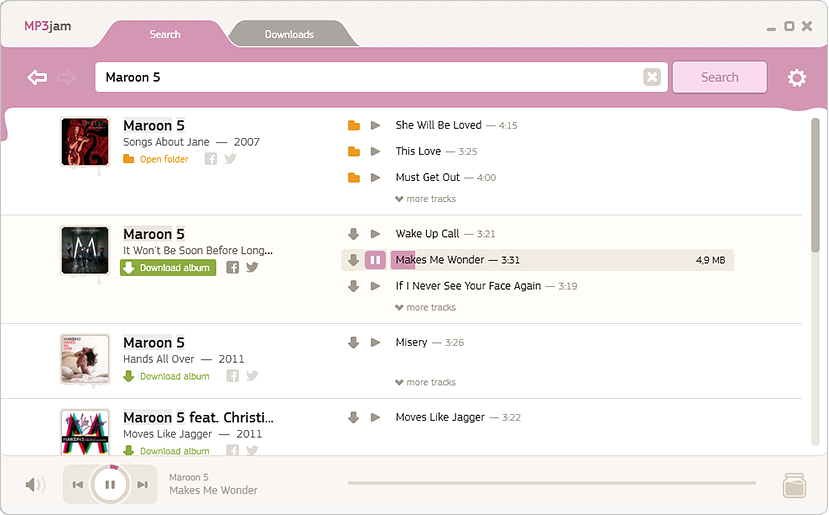 FREE DOWNLOAD
Free MP3jam es una fantástica utilidad que permite buscar y descargar canciones MP3 fácilmente, sin tener que introducir códigos raros o esperar horas y horas a que alguien se conecte a un servidor.
Free MP3jam solo tiene dos pestañas (Buscar y Descargas) y una gran barra en la que introducir el nombre de la canción, artista o disco. Un clic y obtendrás resultados.
Los resultados que Free MP3jam proporciona, obtenidos de diversas fuentes, se muestran en listado junto con las cubiertas originales del álbum. La música se puede escuchar al instante, vía streaming, y también descargar haciendo clic en el botón verde.
El aspecto llamativo de Free MP3jam recuerda al navegador Chrome. Su eficacia y rapidez, por otro lado, solo son comparables con Songr, el otro gran descargador gratuito de música.

|----------|

Free MP3jam is a great utility that allows you to find and download MP3 songs easily, without having to enter codes rare or wait for hours for someone to connect to a server.

Free MP3jam only has two tabs (Search and Downloads) and a large bar where you enter the name of the song, artist or album. One click and you will get results.

The results provided Free MP3jam obtained from various sources, shown as a list together with original album covers. The music can be heard instantly via streaming, and also download by clicking the green button.

The striking aspect reminds MP3jam Free Chrome browser. Its efficiency and speed, on the other hand, are only comparable with Songr, the other major free music downloader.