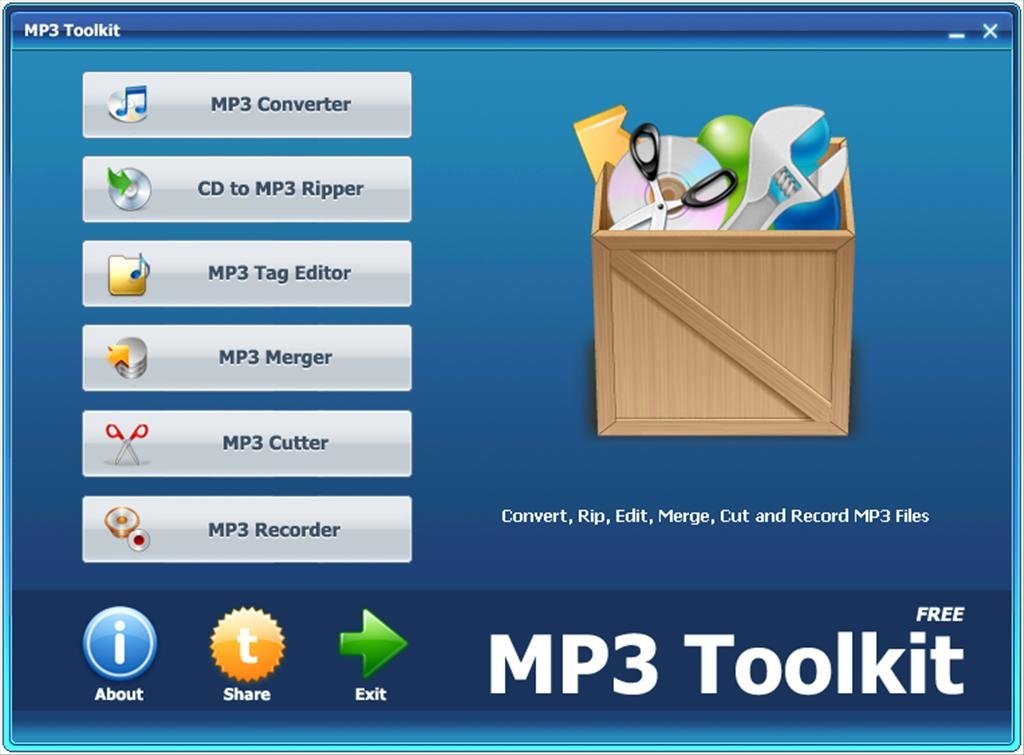 DOWNLOAD
MP3 Toolkit es un programa maravilloso Y GRATUITO. Y es que MP3 Toolkit agrupa en un sólo programa 6 herramientas básicas para editar archivos de audio en cualquier formato (MP3, WMA, WMV, MP4, OGG, WAV, FLV...).
Con las herramientas que incluye MP3 Toolkit puedes convertir, cortar, ripear CD, unir, editar tags e incluso grabar el sonido de tu PC. En concreto, el programa incluye lo siguiente:
MP3 Converter, un conversor de MP3 de lo más eficaz. CD to MP3 Ripper, un ripeador de CD a MP3; MP3 Tag Editor, un completo editor de tags ID3; MP3 Merger, una práctica utilidad para unir MP3; MP3 Cutter, un sencillo editor de audio para cortar trozos de canciones y MP3 Recorder, que te permite grabar todo lo que suena en tu PC.
La gran ventaja de MP3 Toolkit es que ofrece varias herramientas sencillas y muy prácticas en el mismo programa, de modo que no necesitas nada más para realizar las tareas básicas de edición de audio. Imprescindible.

|----------|

MP3 Toolkit is a wonderful program. And is that MP3 Toolkit brings together in one program 6 basic tools for editing audio files in any format (MP3, WMA, WMV, MP4, OGG, WAV, FLV ...).

With MP3 Toolkit includes tools that can convert, cut, rip CD, join, edit tags and even record the sound of your PC. Specifically, the program includes the following: MP3 Converter MP3 converter as effective.

CD to MP3 Ripper, a CD to MP3 ripper, MP3 Tag Editor, a full ID3 tag editor, MP3 Merger, a handy utility for joining MP3, MP3 Cutter, a simple audio editor to cut pieces of songs and MP3 Recorder, that lets you record anything that plays on your PC.

The big advantage is that MP3 Toolkit offers several simple and very practical tools in the same program, so you do not need anything else to perform the basic audio editing. Essential.