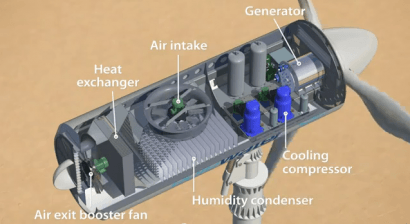 NOTICIA DE ENERGIAS-RENOVABLES.COM
Un inventor francés ha desarrollado un aerogenerador que permite obtener agua a partir de la humedad del aire y al mismo tiempo generar electricidad. La máquina recolecta el agua que se encuentra en el aire gracias a un condensador de humedad, pudiendo producir más de mil litros diarios. Todo ello, sin riesgo de agotar el recurso ni dañar el medio ambiente.
La idea de "cosechar" la humedad del aire, y hacerlo utilizando como única fuente primaria el viento, se ha convertido en proyecto industrial de la mano del ingeniero francés Marc Parent, inventor de la turbina WMS1000 que comercializa a través de su empresa Eole Water.
La WMS1000 puede operar en cualquier zona del mundo, incluso en las más secas, sin bien su rendimiento varía en función de donde se instale. En zonas con temperaturas de hasta 35 grados centígrados y una humedad ambiente del 30%, la producción ronda los 350 litros diarios de agua, mientras que en regiones costeras con temperaturas de 30 grados y una humedad ambiente del 70%, puede llegar a producir 1.800 litros.

|----------|

A French inventor has developed a wind turbine for obtaining water from the humidity while generating electricity. The machine collects the water which is in the air with a humidity condenser and may produce more than one thousand liters per day. All this without risk of depleting the resource or environmental damage.

The idea of ​​"harvest" the humidity, and do so using only primary source as wind, has become the industrial project of the hand of the French engineer Marc Parent, inventor of the turbine WMS1000 marketed through his company Eole Water .

The WMS1000 can operate in any area of ​​the world, even in the driest, not good performance varies depending on where it is installed. In areas with temperatures up to 35 degrees Celsius and a humidity of 30%, producing around 350 liters of water, whereas in coastal regions with temperatures of 30 degrees and a humidity of 70%, can produce 1,800 liters.