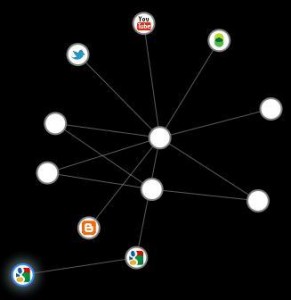 DOWNLOAD
Cuando navegas por Internet estás enviando información personal a páginas y servicios web sobre tu navegador y tu historial de visitas, entre otros datos. Collusion te ayuda a identificar estos trackers invisibles.
Al instalar Collusion y a medida que navegues, el icono de esta extensión irá alertándote de que ha encontrado nuevos sitios que están siguiendo tu rastro. Si pinchas en dicho icono, verás un mapa donde se despliega esta información de manera muy visual.
Los mapas de Collusion muestran los iconos de diferentes webs y has de estar atento a su aura y color: dependiendo de ellos, sabrás si son sitios de confianza o especializados en recopilar información personal.
Si bien no ayuda a evitar el envío de información, Collusion te abre los ojos a este aspecto tan poco conocido para que tomes medidas. Por ejemplo, puedes probar el modo de navegación privada de tu Chrome.

|----------|

When surfing the Internet are sending personal information to web pages and services on your browser and your history of visits, among other data. Collusion helps you identify these invisible trackers.

When installing Collusion and as you surf, the icon of this extension will be alerting you that you have found new sites that are following your trail. If you click on that icon, you'll see a map which displays this information in a very visual.

Collusion maps show the icons of different websites and you must be aware of your aura and color: according to them, you'll know if they are trusted sites or specialized in collecting personal information.

While it does not help to avoid sending information, Collusion opens your eyes to this little known aspect to take action. For example, you can try the private browsing mode of your Chrome.