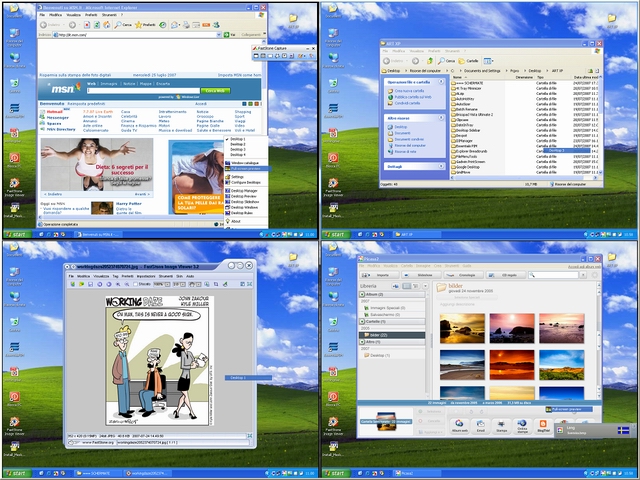 DOWNLOAD
Dexpot multiplica el área de pantalla de tu monitor hasta por veinte, gracias a la creación y gestión de una serie de escritorios virtuales con los que podrás mejorar sensiblemente tu capacidad de trabajo y organización con el PC.
Dexpot coloca un icono en la bandeja de sistema desde el que puedes acceder a todos tus escritorios virtuales, así como a las opciones de configuración del programa, gestor de escritorios, lista de ventanas en cada uno de ellos, reglas de escritorios, herramientas y demás.
El sistema te permite copiar o mover ventanas de un escritorio a otro. Cada uno de de ellos es totalmente independiente, y puede tener su propio fondo de pantalla, resolución e iconos.
Sin duda uno de los gestores de múltiples escritorios GRATUITOS más completos y a la vez más sencillos de usar.

|----------|

Dexpot multiply the area of ​​your monitor screen up to twenty, with the creation and management of a number of virtual desktops that can significantly improve your ability to work and organization with the PC.

Dexpot places an icon in the system tray from which you can access all your virtual desktops as well as configuration options of the program, desktop manager, window list in each of them, rules of desktops, tools and other .

The system lets you copy or move windows from one desktop to another. Each of them is totally independent and can have its own wallpaper, resolution and icons.

Without doubt one of the managers most comprehensive FREE multiple desktops yet simple to use.