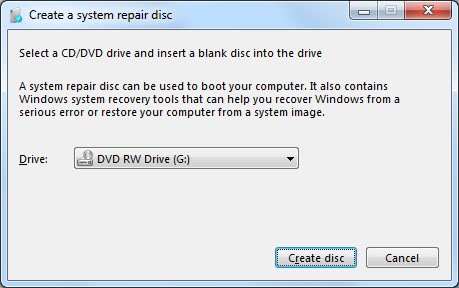 Si hemos perdido nuestro disco de reparacion de Windows 7 o si compramos un equipo con Windows ya instalado y no tenemos este disco, con esta utilidad podemos crearlo.
Necesitamos un CD o DVD virgen, vamos a Inicio y en la caja de busqueda escribimos
recdisc
, a continuacion pulsamos enter y nos saldra la ventana de "Crear un disco de reparacion del sistema", con el CD/DVD en blanco le metemos en la unidad y pulsamos sobre el boton "Crear disco" y esperamos hasta que finalice.

|----------|

If we lost our repair disk in Windows 7 or buy a computer with Windows already installed and do not have this record, we can create it with this utility.

We need a blank CD or DVD, go to Start and in the search box write recdisc below press enter and we'll be out the window "Create a system repair disc" with the CD / blank DVD you get into the drive and click on the button "Create Disk" and wait until it finishes.