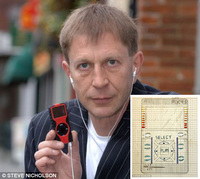 Aunque suene sorprendente, el iPod es un invento del año 1979, aunque no fue hasta 2001 cuando comenzó a comercializarse tal y como lo conocemos. Así lo reconoció Apple para no perderlo en un juicio sobre su patente.
Originalmente, en ese año, Kane Kramer diseño el minidispositivo IXI capaz de albergar tres minutos y medio de música. años mas tarde en 1988 quiso renovar la patente y para ello busco financiación pero ante la imposibilidad de obtenerla perdió todos los derechos sobre su invento de tal forma que este paso a ser de dominio publico y Apple, que no desperdicia ninguna buena oportunidad que le pasa por delante, aprovecho para lanzar el conocido iPod, que ya cuenta con mas de 200 millones de unidades vendidas.
En el juicio sobre la patente del iPod, Apple cito a declarar a Kramer para demostrar que el iPod no se trataba de un plagio.

|----------|

Although it may sound surprising, the iPod is an invention of 1979, although it was not until 2001 when he began to market as we know it. This was acknowledged by Apple to keep him in a trial on its patent.

Originally, in the year, Kane Kramer designed the IXI minidispositivo capable of holding three and half minutes of music. years later in 1988 wanted to renew the patent and seek funding for it but it was impossible to get lost all rights to his invention so that this step to be in the public domain and Apple, which does not waste any opportunity that happens ahead, take the opportunity to launch the popular iPod, which has more than 200 million units sold.

At the trial on the patent for iPod, Apple Kramer summoned as witnesses to show that the iPod was not plagiarism.